Instructor introduction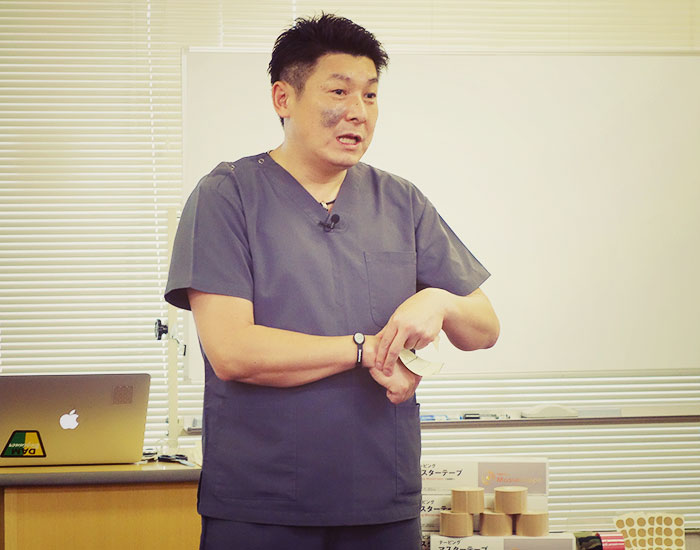 Keiichi Yamada
Born November 1, 1973, 43 years old Scorpion AB type
Born from Adachi-ku, Tokyo Residents in Kawaguchi-city, Saitama Prefecture
1995 Teikyo Medical Technical College Graduate Acquisition of National Qualification of Judo Redressor
Beginning to learn Kinesio taping from the time of studying abroad.
Enrolled in the Kinesio Taping Association in 2005
2001 Started conditioning & trainer activities of professional fighters' players
In 2006 I will start taping seminar activities, "I would like to tell you how to paste more effective taping than ever".
Lecture for more than 100 people, totaling over 1000 people.
We produce 18 taping instructors nationwide
March 17, 2008 Yamada Osteopathic clinic opened
Opened "One Tape Taping Course" sponsored by Japan Technical Therapy Association
2009 Yomiuri Cultural Center sponsored "Taping lecture anyone can open"
2010 Tokyo Mini Valley Association · Convention Relief Team & Taping Care Activities started
2011 Taping Seminar DVD release (Cairo Basic) Total 7 releases
2013 "Just put the tape! Winning golf" e-book publication
Therapeutic industry magazine 'Warm innovation' column series start (end of 2017)
Hosting "Taping & Instrumentation Course" hosted by Therapist Leaders' College
Inauguration of 2016 Mitness Medical Advisor
Work on sports injuries as a practitioner
A lot of merits
The range of technique as a practitioner and the range of symptoms that can be handled increase
It will be more often to be nominated as a sports trainer
Management is stabilized by influence from sports athletes
It is possible to judge severely whether the effect of your technique is effective and whether the effect of taping is effective or not
You can also feed back techniques that are effective for athletes to those who are doing sports in general
Instructor message

Athletes can see their body firmly,I continue looking for a teacher who will manage it.

Please learn this taping technique and help an athlete.
I wish you good luck!
Perfect Taping

-Chapter of Sports Disorders-
¥12,800JPY